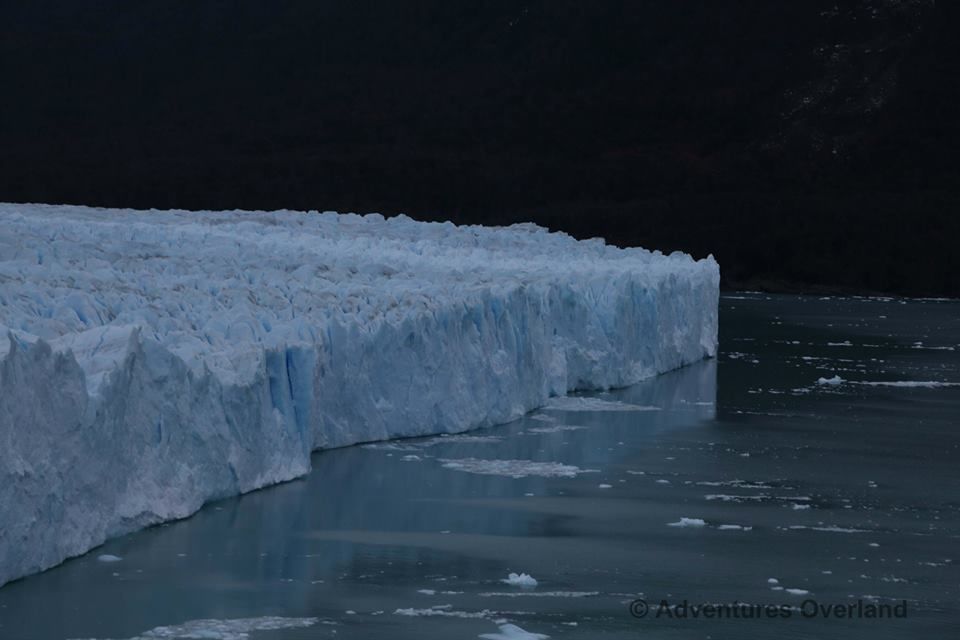 After driving through Asia, Australia and Africa as part of The Great Indian World Trip, we were ready to fly to Argentina to start Leg 4. Our vehicle had already reached the port in Buenos Aires and we took the long KLM flight to Argentina.
My eyes opened when the Pilot announced that we are about to land in Buenos Aires. We smoothly touched the ground of Latin America and the excitement finally kicked in. A region that was completely new for us. It was unknown, unexplored, a bit daunting, complicated because of language barriers and no known faces, we were going to be on our own. We would be driving through remote, barren and desolate terrains. This would be the real test for us as travelers, as drivers, as globetrotters! Armed with 3 English to Spanish translation books, a couple of tutorial cds and some apps on our phones, we disembarked and reached the immigration counter.
"Good morning" I said with a smile to the gorgeous looking woman at the immigration counter.
"Hola, Passaporta" she asked
I skipped through my translation book and somehow managed to answer her questions about why we were here and where we were headed to. A loud thump of her stamp on my passport was proof enough that I had spoken the words she wanted to hear. We collected our bags, booked a taxi and headed towards our modest hostel. As the taxi drove out of the airport, I rolled down the window and soaked in the Latino air. Tango, brightly colored homes, gorgeous people, Argentine Steak, Spanish, wines, glaciers etc. were all crossing my mind. Driving through Latin America was going to be some experience. I had been most excited about this part of the journey, even more than driving through Australia or Africa. Finally, we were here and I was absolutely thrilled.
Our first stop was the shipping agents' office in the city. Our vehicle was already at the port and we had to get it cleared to avoid paying the huge daily penalty.
"Tushar, passoporte, car registracion, licensia" Daniel, our shipping agent asked. We handed over all the documents and after studying them, he told me that I will have to go to the customs' office with Nora, an old lady who works in his office. Nora arrived and greeted me with a kiss on my cheek. I was a bit puzzled by the gesture.
"In Argentina, everyone greets each other by a kiss on the cheek. Even men kiss each other to greet. It is also normal to greet strangers with a kiss." Ravi explained.
"So you are telling me that you kiss men every day at work?" I asked him
"Umm, not me, I try not to kiss the men and just get away with a hand shake," he laughed
I went to the customs' office with Nora and got all the formalities done. It took a couple of hours after which she explained that we will be able to get the vehicle cleared the following day. We were back by late afternoon and were free to explore the city. Next couple of hours was spent in observing people walking by, smelling the steak being cooked in restaurants around us, noticing people kissing each other cheek to cheek everywhere, Latino music playing in various pubs and restaurants. The overall atmosphere of Argentina had a laid back, fun, positive and a happy vibe. After a couple of drinks, exhaustion finally kicked in and we decided to call it a day. My mind was already overworked after flipping through pages of translation guides, language converter apps and having worked hard to speak Spanish words. We took a cab back to the hostel and crashed in bed.
Next morning, we went straight to the port for vehicle clearance. Our shipping agents' were already waiting for us. I donned a yellow jacket and walked into the port where a truck was parked with a container on top in which I had locked our vehicle in Cape Town. I recognized the container and couldn't hold my excitement.
"Can you please open the container?" I requested the driver
The container was opened and were again face to face with our beloved "Forest". Last time we had seen our vehicle in Cape Town. We took the car, drove back to our hostel and parked it in a secure paid parking nearby. In the morning, we decided to go explore the city. We went to an area called La Boca, where we saw the famous oddly colored South American buildings. The story is that this area, being by the docks was used by new immigrants. The colors were used from discarded paint from the ships they arrived on. El Caminito, whose name is derived from a Tango song, is the most famous street with colourful houses in this area. You can see tango dancers here and even take a photo or dance with them for a small fee.
"Look into my eyes and don't smile" said a gorgeous tango dancer when I asked her to teach me some Tango steps. Wearing a silky one piece dress with a slit from her thigh down, she wrapped her perfectly toned leg around my waist. "Hold me firmly and don't let go" she said to me very seriously. I was a bit embarrassed but Sanjay and Prasad were having a good laugh at my cost. I 'Tangoed' with her for a few minutes and enjoyed every bit of it.
"I think my visit to Argentina is complete now. I have nothing more to experience" I laughed.
Our last evening was spent watching a Tango show at the high end Tango Porteno theatre in the heart of the city. The tickets were given complimentary by the Argentine Tourism Board. It was a spectacular performance, what struck me most was the intensity and the passion with which the partners look into each others' eyes while dancing. At many times, the couple would continue dancing all around the stage with their eyes closed. Their bodies moved in sync with each other, hands and feet moving passionately and with perfect timing, a Tango show in Argentina should definitely be on the top of your to do list if you are visiting Argentina!
The last evening ended in style, we went back to the hostel and packed up to begin our long journey through Latin America. I went to sleep with a small prayer wishing to have a successful passage through a region about which we didn't have much knowledge. Once we hit the road, everything will be taken care of, with these thoughts…sleep came easily.
Early in the morning, we packed our bags, loaded the car and switched on the ignition. We hit the road and soon left Buenos Aires behind us. We were in the country side and were finding it very comfortable driving on the right side of the road. The traffic was thin, the sun was bright, the tarmac was smooth and the car was moving along swiftly. Our destination for the day was a small town called BahiaBlanca which was around 700 km from Buenos Aires. The goal in mind was to reach Ushuaia, the southern most town in the world in the next 4 days. The drive was pleasant and we were feeling comfortable and 'at home' already.
We stopped for lunch after driving for around 5 hours. We ate Pollo (pronounced as Posho meaning chicken) and Papa Farita (meaning French Fries) in a small road side café. The Pollo was grilled and cooked in some local sauces that smelled heavenly. The food in Argentina is absolutely awesome and not that expensive.
After driving for 8 hours, we reached Bahia Blanca, our first destination since starting our drive from Buenos Aires. There was nothing special about choosing Bahia Blanca as our first stop over except that it was a big enough town and conveniently located on Route 3, the highway that we would continue driving on all the way to Ushuaia from Buenos Aires. As we entered Bahia Blanca, we started looking for a place to spend the night. It was about to get dark and we had no clue on how to find a hotel.We signalled for a vehicle next to us to stop at the traffic lights. An old couple was sitting inside and the husband smiled and rolled down his window.
"Hotel, hotel, sleep, sleep" I said making a sleeping action with my hands.
He tried to explain directions to a hotel but when he realised that we couldn't understand a word, he signalled for us to follow him. We kept followed him for 15 minutes after which we stopped our car behind him.
"Hotel." he said, as he came out of his car with his wife and pointed at a small hotel in front of us. We thanked him and his wife for taking time out to help us. His wife gave us her number and asked us to call her in the morning. We thanked, hugged and kissed and said goodbyes. After we checked into the hotel, their son, who could speak English, called us.
"My parents told me to call you, they would like you to come home for dinner tonight if you are not tired" he said
We felt very happy and touched and immediately told him that we would love to join them for dinner. One hour later, they picked us up, took us home and treated us to a delicious dinner and local beer. The old couple and their 2 teenage boys made sure that we ate well and were comfortable in their home. Where did we meet them? On the road, a couple of hours back. Moments like these make our journey absolutely worth it. Neither could we speak Spanish, nor could they speak English. But we ended up having a lovely evening in their home. No monuments, tours or sightseeing can make you understand or know a country more than such experiences with the people living there.
Next day, we were on our way further south to a town called Puerto Madryn which was famous for whale watching. As we continued driving south, the temperate dropped more and soon we found ourselves in the middle of a snow storm. At first, it was mild and we all got very excited looking at snowflakes falling on the windscreen. But slowly, it got worse and before we knew, the road ahead was completely covered in snow. It was around 9 AM, but still completely dark. I slowed the pace and was sitting at the edge of my driving seat as we continued driving very carefully and with full focus on the road. The storm passed, the sun rose and we were once again a bit relaxed.
We were on our way to Ushuaia, the southernmost city in the world. For anyone who is absolutely passionate about epic journeys, road trips, driving cross country and exploring remote terrains in the world, Ushuaia is always on the wish list. It is a challenge to get there, only a few people can claim to have got there and once you are there, well, you will have achieved a 'landmark' in your 'adventure career'.
We reached Ushuaia late in the evening and after struggling to find a hostel for 2 hours, we settled in at a popular hostel right in the middle of the city. I went to sleep with a smile, feeling satisfied, feeling a sense of completeness and knowing that a dream has come true. Next morning, we went down to the port and we saw the sign board, "Ushuaia, Fin Del Mundo" meaning "Ushuaia, End of the World"
"We have driven 3000 km from Buenos Aires only to see this sign board. We have seen it now, lets' start driving north" I said to Sanjay.
"Now we will continue driving north for more than 20,000 km till we reach the top of Alaska!" I said.
Our journey north started with a stopover at a town called El Calafate, famous for the Perito Moreno Glacier. I have seen deserts, mountains, forest, oceans, I have seen incredibly beautiful cities, palaces and forts, I have driven on amazing highways in unique terrains, but I had never seen anything as gorgeous in my life as the Perito Moreno Glacier. Have you ever felt that maybe your eyes are fooling you? That maybe what you are seeing is not actually real but maybe you are just imagining it? Have you felt spellbound, speechless, emotional, silent looking at something? Have you felt like wanting to continue staring, lost in the grandeur, the beauty, the magnificence of a place? I have. At the Perito Moreno Glacier. I had never seen pics of it, I had not prepared myself for what I was going to witness. As we walked towards the Glacier and saw the first sight of it, I was amazed. A gigantic 14 km long and 4 km wide glacier, the absolute silence all around it, the deafening sounds it made from time to time as huge chunks of ice melted and dropped into the water underneath it, the crystal blue shadows, the towering ice towers, the absolute white, the ships that appeared like toys in front of the 2 km (approx) tall ice towers of the glacier, it was mother nature in all its glory. It can make you smile, it can make you cry, it can make you lost in thought for hours, it will definitely leave an everlasting impression on you.
The final leg of our Argentine Adventure took us on Route 40, the highway in Western Argentina that goes all the way north and is considered to be one of the most beautiful drives in Western Argentina. We took Route 40 from El Calafate, the town we stayed in to visit the Glacier, all the way to Bariloche, the town from where we would exit into Chile. Route 40 shocked us more than it surprised us. We experienced harsh, remote landscapes in Australia, we drove through empty, remote terrains of Patagonia, but in all those places we still saw some traffic movement. On Route 40, there was nothing. We drove on the highway for close to 10 hours and I think we must have seen close to 10 cars throughout the day. Just one car per hour! No villages, no gas stations, no birds, no animals, only mountains, lakes, winds so strong that we could feel it pushing the car sideways. We had to actually take a tight grip on the steering wheel fearing that if we don't, the wind will toss the car off the highway. Driving through Route 40 and reaching Bariloche was a huge relief for us. We felt proud of ourselves to have survived Route 40 and be back in civilization. It was one of the most nerve racking drives for us, not because of the challenging terrain but simply because of the nothingness. If you car breaks down, you are as good as dead!
Argentina was a great start to our Latin American drive. Tango dancing, warm and helpful people, losing our bags, car problems, meeting local families, driving to Ushuaia, Perito Moreno Glacier and Route 40, every single day was a new story. On our meagre budget where some days we skipped meals, stayed in dingy hotels, shared rooms with backpackers in hostels, stayed hungry so we could fill up our fuel tank, all this just to make sure that could continue exploring, continue driving and continue moving ahead on our incredible journey. We know this journey is not going to be easy, but we also know that this journey will change us and leave us with everlasting memories, a massive sense of achievement and a feeling of absolute high. We have driven through Argentina, a country about which we knew nothing till just a couple of weeks back. We survived the challenges and overcame the language barriers. Next stop…Chile.