Road Affair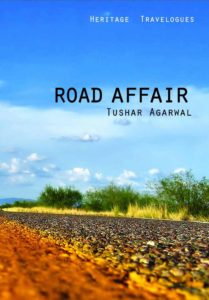 Road Affair is an incredible journey by Tushar who left his career as an IT consultant to follow his dream. A dream to travel by road to amazing countries, highest mountains and remote places across the world. In the pursuit of fulfilling his dream Tushar created three Limca Book of Records. Tushar drove from London to Delhi in 51 days covering 15 countries, he then took another journey through the Himalayas and drove 5500 kms non stop for 9 days 6 hours and 15 minutes and finally created another record of driving the highest motorable road in the world at 18399 feet at Mana Pass. Road Affair is an incredible travelogue that records 4 epic journeys undertaken by Tushar,
(1) London to Delhi by Road ,
(2) Toyota Tans Himalayan Challenge
(3) Mana Pass- Highest motorable road in the world
(4) ASEAN India car rally.
This book is more than a travelogue, it's a journey of life. Best explained in Tushar s own words… Amidst the chaos & the crowds, a new dream was quietly born within me, At first, I laughed at it, then I accepted it, finally I embraced it. Before I knew, it became a part of me and I wanted to see it for real Finally, we met, and since then, I haven t stopped smiling.
Buy Now
The Great INDIAN World Trip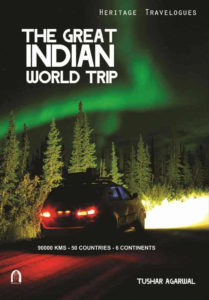 The Great Indian World Trip is an incredible story about 2 guys who beat all odds to live their dream of driving all around the world in their own car.
Tushar and Sanjay spent 2 years planning the journey and even after failing to secure enough money, they still decided to to ahead. Incredibly, help kept coming along the way and bit by bit, slowly and steadily they continued progressive and finally after 15 months, they realized their dream of driving 90,000 km through 50 countries in 6 continents!
The book narrates an incredible story of cultures, languages, places, food, fun, difficulties and above all the struggles that they face on this one of a kind journey. They stayed hungry but made sure the fuel tank was always full. They created a Guinness world Record in Australia, drove from Ushuaia, the southern most city in the world in Argentina to Dead Horse, the northern most point of Alaska, They ate a Guinea Pig in Peru.
Crocodile and Ox Balls in Africa, Kangaroo in Australia and many more delicacies in different corners of the world. They learned the Tango Dance on the streets of Argentina, drove on the Death Road, the World's Most Dangerous Road in Bolivia, spent time with Billionaires in Africa and had many more such incredible experience on their 15 month long journey.
Buy Now